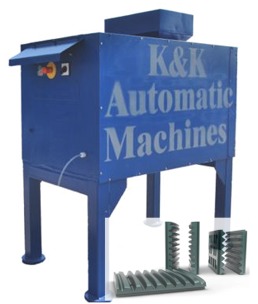 Requirements to be executed (before starting the machine) by Customer:
electric supply cable: 5 x 4 [mm2] stranded copper conductor
protection in electric network before machine: D32-3P
electric connection between the machine and the network should be disconnectable - plug/socket 32A
Jaw crusher for stone. Features of the machine:
both of jaws are moveable - such a solution increases productivity
used for the initial and final (adjustable output fraction) crushing of raw materials (not manifesting a tendency to sticking)
high operational reliability
low costs for operations and maintenance
undemanding operation and maintenance
ease of replacement of spare parts
Power supply
3/N/PE ~400 V; 7,5 kW
Max. thickness of the material
up to 12 cm
The inlet opening dimensions
40 x 15 cm
Dimensions
1170 mm x 720 mm x 1330 mm
(length x width x height)
We provide warranty 12 months and after-sales service
Options:
Possibility to make with a single movable jaw.